iConnect
Secured, real-time client access to your assignments and files.
Emphasizing Xpera's commitment to client satisfaction and industry-leading technology, iConnect 2.0 offers greater ease of use and complete peace of mind.
iConnect 2.0 reduces cycle times by providing real-time access to files, reports, and video.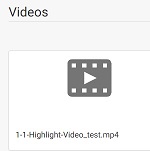 High-Definition Video
We have integrated full-length, HD video, offering playback in any web browser or downloading to your computer.
View and Download
Increased accessibility to files, and the ability to interact directly with investigators.
Security Enhancements
Additional tracking and security provisions allow you to rest assured your information is safe.
Live Updates
Receive daily status updates and communicate directly with our professionals.
Additional Functionality
Manage your assignments, right in iConnect. Our updated platform enables you to create and submit new assignments or review and re-open past assignments.
Increased Customization
Customize your assignment forms based on internal requirements and nomenclature. Create shared group access and create customized KPI reports.
Updated Compatibility
Tablet, phone, or computer—you can access iConnect on nearly any mobile platform. API Integration provides the ability to integrate and securely connect with your IT systems.
Trusted Storage
All our data residency is in Canada, and iConnect is developed and managed in-house.
Our proprietary online client access system, iConnect, enables our clients to track their file progress in real-time—24/7. Clients are provided with secure logins to the web-based system through which they can access their files, read or download reports, video, and much more. Clients can reduce cycle times and courier expenses, make informed and effective decisions, and steer the investigation with continuous input and communication.
Xpera investigators also benefit from iConnect as they can log in to update their progress on an as-needed basis as well as upload video remotely from the field, further reducing our turn around time and your cycle times. This comprehensive team effort and innovation substantially improves results and enhances performance, ensuring a seamless flow of information and results. 
Armed with the latest in technological advancement and coupled with their personal skills and training, our investigators and professionals are well-equipped to ensure every level of success for our clients.