Congratulations Rob Garland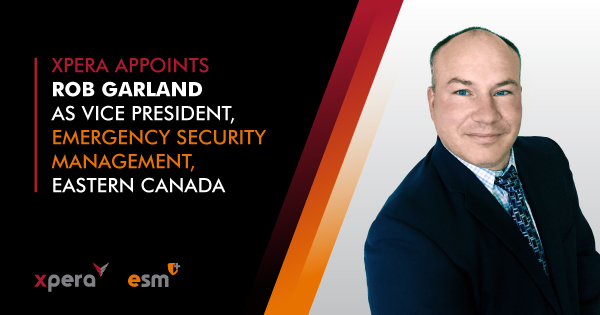 Xpera Appoints Rob Garland as Vice President, Emergency Security Management, Eastern Canada
Xpera Risk Mitigation & Investigation LP (Xpera), Canada's industry leader in risk mitigation and investigation, is pleased to announce the appointment of Robert Garland as Vice President, Emergency Security Management.
For nearly 20 years, Mr. Garland has provided security solutions to the insurance, government, and corporate sectors. He has been with Xpera since 2012. His innovative approach and track record growing business have helped Xpera to develop across multiple client markets. He has delivered a significant portfolio of service lines including emergency security response, temporary replacement workers, and other emergency response services.
In his position as Vice President, Mr. Garland will lead service teams in Ontario, Quebec, and Atlantic Canada while overseeing engagement with clients. Emergency Security Management (ESM), a key division he oversees, provides 24/7 rapid, onsite deployment of security teams. The company's experience includes over 1,000 fire losses and catastrophic sites secured. He will continue to lead ESM along with a new service line recently launched, Emergency Staffing & Logistics, which meets sudden or urgent market demands for temporary replacement workers.
During his tenure, Mr. Garland has led many notable projects beyond fire losses and disaster response. Working with the Canadian Red Cross, Mr. Garland sat on the board with the Solicitor General to evaluate plans to inoculate Ontarians. He also led site logistics for static Covid vaccination centres across Ontario. It is his focus on organic business growth and unearthing new and potential lines of business that has earned him a reputation for innovation.
Mr. Garland is excited about the future and wants to bring more ideas to the table for clients. His continuing goal is to identify new ways to mitigate risk and solve problems that clients face as their market evolves and their needs change.
Mr. Garland attributes his success to the remarkable talents and skills of his team. "I couldn't image where I would be today without the best team in the business," says Robert Garland. "Their work ethic is incredible. They never hesitate to go the extra mile for clients. I can't wait to see what we accomplish next."
"All Xpera congratulates Rob on his new role," says Jason Dumbreck, Senior Vice President at Xpera. "We welcome his experience to accomplish our ambitious plans for growth, to lead change, and to deliver value in our client relationships."
Robert Garland will continue to be based out of Xpera's Kitchener location and can be reached at 519-620-9297 or by email at robert.garland@xpera.ca.
For more information, please contact:
Len Copp
President
Xpera Risk Mitigation & Investigation
T: 888-467-2370 x 1245
Xpera Risk Mitigation & Investigation LP is Canada's industry leader in risk mitigation, investigation and security. We provide innovative solutions that reduce risk, minimize loss, and increase human safety, enabling our clients to function to their fullest potential. We enable our clients to enhance business performance and ensure operational continuity by providing the experts and the tools to manage all levels of risks. Visit xpera.ca to learn more.