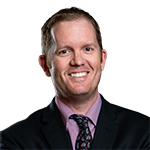 Director, Investigations, Southwestern Ontario
Jeff Timmermans is the Director, Investigations, Southwestern Ontario with Xpera Risk Mitigation & Investigation. He has been a licensed Private Investigator in the Province of Ontario and employed with Xpera since March 2000, after graduating from Seneca Col­lege's Law Enforcement Pro­gram with Honours and from the Canadian School of Private Investigation.
Jeff began his career as a surveil­lance investigator, specializing in insurance investigations and quickly transitioned into a management role, oversee­ing a team of investigators throughout Southwestern Ontario. He currently has operational oversight of our London, Kitchener/Waterloo, Hamilton, St. Catharines, Barrie, Windsor and Sudbury offices and assists with business development in his respective regions.
Mr. Timmermans routinely conducts seminars on the effective use of investiga­tions and in December 2010, obtained his Certified Fraud Examiner des­ignation. He is also a member of the Council of Private Investigators of Ontario and a Social Director with the London Claims Association, a local chapter of the Ontario Insurance Adjusters Association.